PDO refers to polydioxanone, a polymer used in medical sutures. In a thread lift procedure, PDO threads are embedded just beneath the surface of the skin with a cannula – the same flexible tool used to inject filler. The introduction of the threads to the skin causes kick starts collagen production in the area which leads to increased volume and firmness over time.
PDO threads have a high safety profile, complete absorption and minimal tissue reaction. The PDO thread generates tensing fibrosis in the surrounding tissue. The risk for scarring is absent when inserted correctly.
A V Soft Lift® is performed using the V Soft Line® palette of threads.
Each box contains an instruction leaflet and labels with the batch number to be inserted into the patient dossier as well as the Patient Log Book.
The effects of a thread lift are visible immediately and improve over several months. Results are not permanent but can last for up to two years. Downtime is minimal with PDO thread treatment and produces even better results when combined with other volumizing procedures.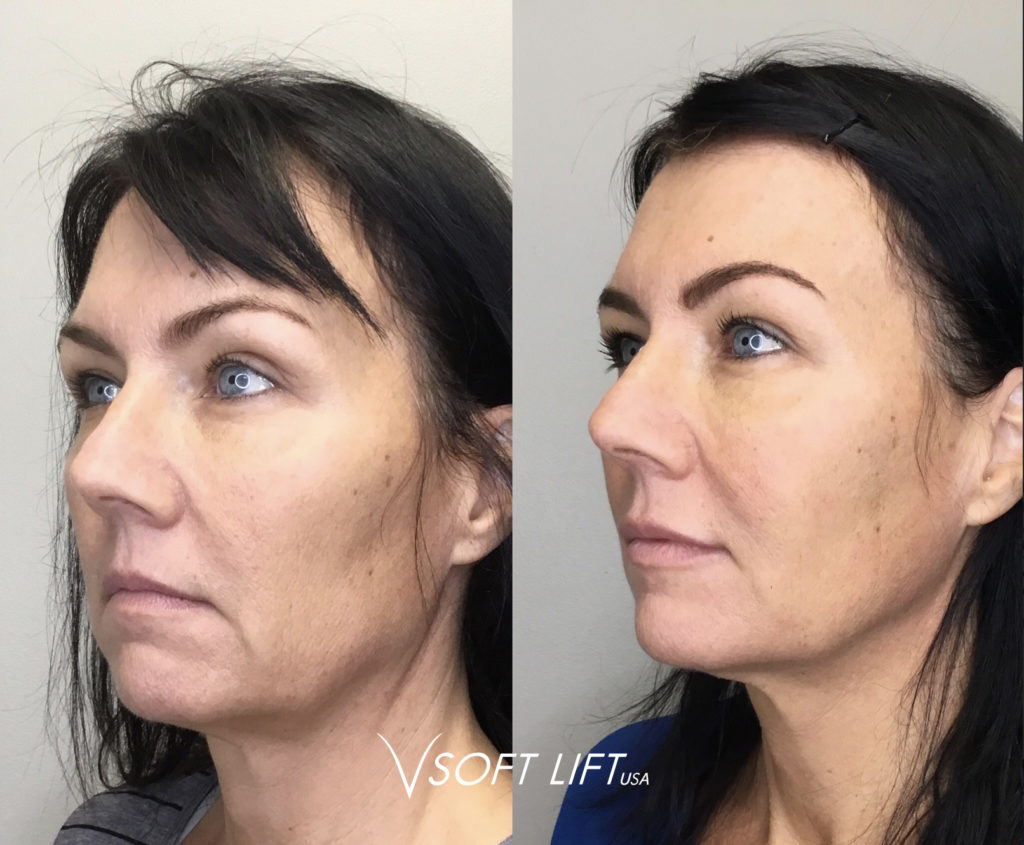 AN ABSORBABLE PDO THREAD WITH CANNULA
V Soft Lift® is a sterile single use polydioxanone suture in a cannula. It is a modern, innovative non-permanent thread, not to be compared to traditional permanent threads. V Soft Lift is both double cleared for the US and the European market and Medical Device Certified. V Soft Lift® is a high-end product on the PDO-thread market, offering multiple advantages.
PDO-threads with high-quality cannula made of surgical stainless steel
Tip of the cannula is diamond-cut and polished for highest precision
Cannula treated with an ultra-thin layer of medical silicone, allowing a smooth entry into the dermis, minimizing trauma in the skin and patient discomfort
Manufactured in ultra-clean, white- room environment, for pharmaceutical production
Fully automatic assembly robot for perfect control and a high-performance production
Finished products are blister-packed, sterilized with EO gas, and packed in aluminum bags
Products come with individual batch numbers and pre-printed batch-label stickers, facilitating medical record- keeping for the practitioner
Extended quality control implies safety and robustness of the final product