PDO Thread for Nose Thread Lift Treatments
V Soft Lift's Lifting PDO Threads for nose treatments are the perfect tool for a nose lift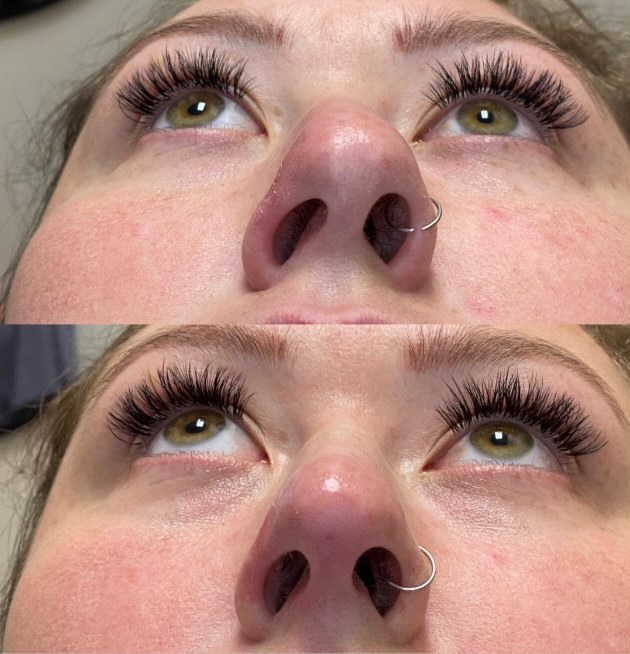 Your in office cost – $35 – $70
Patient Fee – $800 – $1000 per treatment
Treatment time – 10 minutes
Number of Treatments – 1
Results lasting 12 – 18 months
Add a header to begin generating the table of contents
Nose Thread Lifts – Getting the Nose you want without going 'under the knife'
You may have heard about a procedure called a Nose Thread Lift and if you're looking for more information, then you've definitely come to the right place. This modern, non-invasive, and non-surgical procedure has really taken the world by storm, and for a lot of good reasons!
Today we're going to share those reasons and tell you more about the procedure itself, as well as the dissolvable monofilament technology that makes it all possible – the PDO Nose Lift thread. 
If you have ever wanted to change something about your own nose but the idea of getting surgery (and the recovery time that follows) has frightened you away from the idea, then we urge you to read on. Due to the magic of PDO Nose Lift Threads such as those provided by V Soft Lift, you can change your life with a procedure that you can do in the space of your lunchtime. 
Don't believe us?  Then let's get started and you can see for yourself!
What is a Nose Thread lift?
A Nose Thread Lift, also known as a 'Hiko Nose Thread Lift', is a non-surgical Rhinoplasty procedure that can be used to improve the overall look and shape of the nose and also to correct specific issues with its appearance.
It's a fast procedure – usually taking between 15 to 45 minutes to perform – but it's also a very useful and effective one! So, what kind of changes can you expect in a fast, non-surgical procedure like this? 
Quite a LOT, actually! Here are just a few examples of what this procedure can do:
Lifting the tip of your nose
Filling up depressions in the nasal walls
Ameliorating a flat nasal bridge
Lifting the bridge to provide the appearance of slimmer nostrils
Minimizing a 'crooked' appearance from past injuries to the nose
Adding projected definition to the nasal tip
Lessening or elimination of a nasal hump
How does the procedure work?
After you have discussed with your doctor what you would like and agreed upon a design, then a local anesthetic is employed so that you will be numb enough to begin the procedure. Once you are comfortable and ready to proceed, then what comes next is the insertion of Nose Lift Threads.
Depending on the type of correction or enhancement, this can be done in different ways. For instance, with a crooked nose, threads would be inserted vertically in order to create a kind of scaffolding support, which would also lift the surrounding tissues so that bump may be blended or concealed.
While this sounds complicated, it is usually just a matter of 6 to 12 Nose Lift threads, on average, to get the job done in less time than most of us take for a lunch break.
We mean it about the time, too – the procedure is sometimes referred to as 'the lunchtime nose job'!
It's pain-free, with the exception of a little soreness in the typical 2-day recovery time, and the results are good for 1 up to 2 years following the procedure!
What happens after the 1 – 2 years, then?
While the PDO threads used for your Nose Lift last longer than traditional fillers, the procedure is not a permanent one like an actual surgical Rhinoplasty procedure would be. The treatment may be repeated, however, once every 1 to 2 years as-needed so that your nose is always looking its best! 
A lot of people aren't happy with their noses but are absolutely terrified of surgery and the unavoidable recovery times involved once such a procedure has been done. 
With a Nose Thread Lift, you can be in and out in under an hour (in most cases) and if you felt so inclined, you could even go straight back to work… it's no more invasive than getting stitches for a cut! It's easy to see why this procedure is so popular and well-received around the world. 
Are Nose Thread Lifts a new trend or have they been around a while?
The Hiko Nose Thread Lift has been around for over 15 years now and originated in Seoul, South Korea. The idea behind the procedure was simple but clever – by the placement of absorbable PDO threads in the supraperosteal and supraperichondrial planes, the bridge of the nose and the tip could be lifted for superior, shaped definition. 
The name 'Hiko' actually is an elegant choice, as it combines the Korean words for 'high' and 'nose' in one neat little package. These days, you can find Hiko procedures, and many doctors have their own techniques which have been built upon the popular Hiko Nose Lift, as well.
What makes it all possible, however, is the PDO Nose Lift Threads. 
Developed initially way back in 1982, these special sutures are made of a synthetic material called polydioxanone and they were the first fully-absorbable suture ever made. Doctors were using them for stitches, trauma, ob-gyn, and Cardiothoracic applications, but for cosmetic lifts, the connection hadn't yet been made. 
Plastic surgeons, at this time, were still using the precursors of modern PDO threads – called Aptos and Contour threads – and while these worked, they were harder to use and would not dissolve on their own. 
By 2010, however, a new procedure affectionately known as the 'Sugar Lift' was being performed with PDO threads and the rest, as they say, is history. 
These days, PDO Thread lift applications are quite extensive and aren't just an alternative to surgery – they are often used in conjunction with a surgical or implant-based approach. To give you an idea of just how useful they are, take a look at some of the most commonly used locations for polydioxanone monofilament threads:
Cheeks
Crow's Feet
Marionette Lines
Water bottle lines
That's not even a comprehensive list, but it should give you an idea of the versatility and practical applications of PDO thread technology for Nose Lift and other Lift applications. With a firm foundation of over 30 years of use in the medical community, that's the kind of technology that you can really rely on! 
For Lift providers who are reading this, we've got a little information on some excellent PDO Thread options from V Soft Lift's product line and if you read on, then we can give you some of the technical specifications and some useful thinks for a doctor's brochure and more!
V Soft Lift's Lifting PDO threads are perfect for Nose and other popular Lifts
With the growing popularity of PDO threads, the market has become a bit flooded with options, but one of the most popular is V Soft Lift's Lifting PDO threads and they're the most popular PDO thread provider in the world! That's because V Soft threads are not only durable but have 10 to 20x more tensile strength then comparable threads on the market.
Not only that, but they also help to stimulate necollagenesis in the skin – ensuring superior firmness and texture with a long-lasting hold. They even come preloaded in surgical stainless steel cannulas with a diamond-cut tip to ensure laser precision in your applications – what's not to like?
For Nose Lift procedures, The V Soft BARB STAR 19G x 40mm is the PDO thread of choice, with results lasting for as long as 12 to 18 months. Aside from Nose Lift applications, the 19G x 40mm BARB STAR threads are also ideal for the neck, jawline, or eyebrows, and they can be applied with an FCL blunt tip cannula within minutes!
For providers of Nose Lift and other Lift procedures, we'll expand a little on some of the other applications of the BARB STAR Lifting PDO threads – they're actually quite versatile and come in a wide range of specifications. 
V Soft BARB STAR Lifting PDO Specifications
Aside from the 19g x 40mm used for Nose lifts, the V SOFT BARB STAR Lifting PDO Threads come in the following ranges and applications:
19g x 100mm – Applied via an FCN blunt cannula, the 19g x100mm BARB STAR threads are optimized for vector lift, jawline, and neck applications.  
21g x 90mm – Applied via an FF Sharp Tip or FCL Blunt Tip cannula, the 21g x 90mmm BARB STAR threads are for vector lift, jawline, and neck, but optimized for patients with thinner skin.
21g x 60mm – Applied via an FF Sharp Tip or FCL Blunt Tip cannula, the 21g x 60mm BARB STAR threads are another option for thin skin and are excellent for eyebrow, jawline, and neck Lift procedures.
23g x 60mm – Applied via an FC Blunt tip cannula, this is the final BARB STAR option for thinner skin that is used for eyebrow, jawline, and neck Lift procedures.
If you would like to learn more about V Soft's product line, be sure to visit V Soft Lift at https://www.vsoftlift.us/ and you can also download a Doctor's brochure in PDF format with some excellent here. 
Inside you'll find detailed information on PDO Threads, such as application for Smooth and Lifting threads, versatility, safety, FDA Clearance details, and more! 
References
Illumia Medical; "3 step Nose Thread Lift"
https://www.illumiamedical.com/3-step-nose-threadlift
Elite Aesthetics;"Nose Thread Lift: Everything You Need To Know"
https://www.elite-aesthetics.co.uk/blog-post/nose-thread-lift-everything-you-need-to-know/
Dr. Jeremy Hunt; "Different Types of Noses"
https://www.drjeremyhunt.com.au/blogs/different-types-of-noses-nose-shapes-surgical-options/
Realself news; "Is the Nose Thread Lift the New Nonsurgical Rhinoplasty? Doctors Weigh In."
https://www.realself.com/news/nose-thread-lift-nonsurgical-rhinoplasty
Facialsculpting; "Nose Thread Lift"