Naso-labial Fold and Oral Commissure Treatment
With V Soft Lift Smooth PDO Threads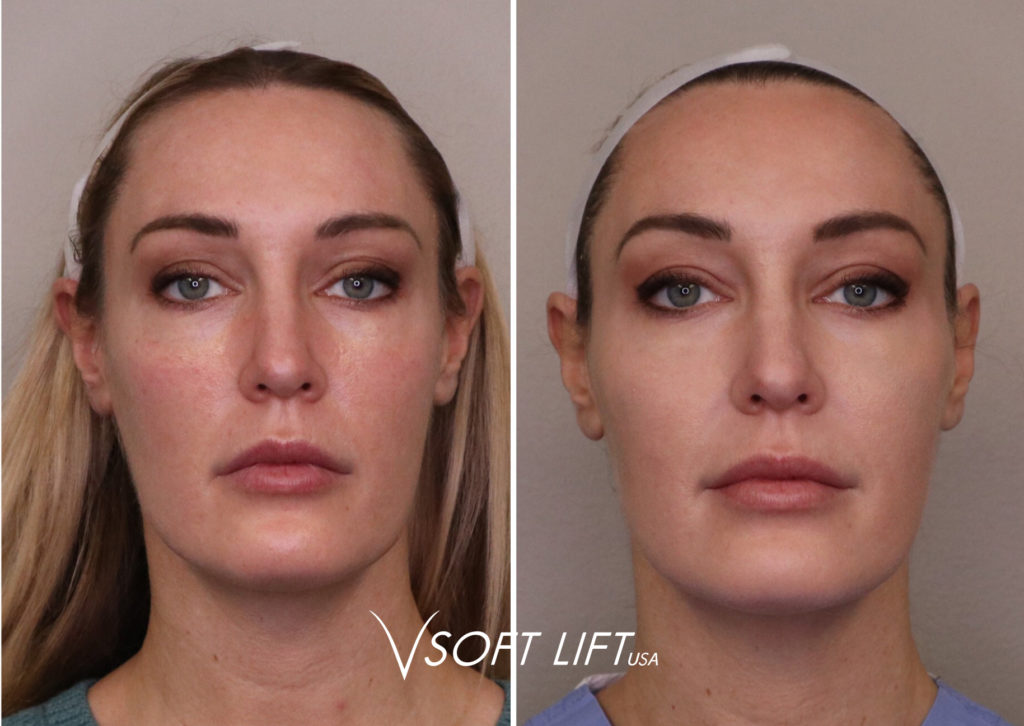 Your in office cost – $75
Patient Fee – $450 – $650 per treatment
Treatment time – 4 minutes
Number of Treatments – 1-3 about 4-6 weeks apart
Results lasting 12 – 24 months
Nasolabial Fold and Oral Commissure treatments: Taking care of 'Smile Lines'
Everyone has heard of 'smile lines' and while they are associated with a happy life, not everyone wants them to be visible right away. Thankfully, Nasolabial fold and Oral commissure treatments can be used to remove and remediate smile lines, and you don't even have to resort to actual surgery.
In today's article, we'll tell you about the surgical process, as well as the non-surgical thread lift and other methods that are used to deal with smile lines in a much less intrusive way. 
If you're ready, then let's talk about Nasolabial fold and Oral Commissure treatments or more simply, taking care of smile lines!  
What is Nasolabial Fold and Oral Commissure treatment?
Those smile lines that you see daily, either on friends or in the mirror, are known more technically as Nasolabial folds. What they amount to are creases that extend out from both sides of the nose and down to the corners of the mouth. 
While they are a normal process of aging, sometimes you can get Nasolabial folds early on in life, especially if you spend a lot of time in the sun. Smoking is another factor that can lead to early 'smile' or 'laugh' lines, as well as gaining or losing a significant amount of weight.
Finally, sometimes it's just an unlucky matter of DNA, so that signs of aging are a little more prominent on one individual than another who might be their age or even a little younger.
As the name suggests, you can see Nasolabial folds even when you are younger, when you laugh or smile, but when your skin is youthful it tends to spring back into shape once the face is back at rest. As time passes by, these lines start to become permanent wrinkles that will be present whether the person is smiling or not and what's worse — they aren't always symmetrical!
It's a bit of a conundrum, but the good news is that we live in a modern age, so that we can have a lot of say in when these lines are going to be visible, rather than submitting meekly to the clock. 
There are quite a lot of ways to do this – so let's look at them so that you can see the wide array of strategies that have been developed to treat these so-called 'smile lines' and to keep them at bay for a good bit longer!
Surgical vs. Non-surgical: Understanding Nasolabial Fold and Oral Commissure options
When it comes to treating nasolabial folds, you've got a lot of options, although 'mileage certainly varies' between them as far as how long they can take to have effect, recovery time, and how long the results will last. Here are the most popular treatment options and we'll tell you a little about each in the sections below:
Botox 
Collagen stimulation  
Fillers 
Surgery
PDO thread lifts
Botox 
Botulinum toxin, aka 'Botox' is often employed in dealing with frown lines, but it may also be injected in specific areas of muscle between the mouth and nose as a treatment for Nasolabial folds. For patients 40 or older, this is often done in conjunction with dermal fillers, to help reduce the severity of those 'laugh lines' and to help reduce sagging. 
The Botox helps to paralyze the muscles and stop the production of acetylcholine – a neurotransmitter that basically tells the muscles to contract. The dermal filler, however, plumps up and tightens the area for better volume and a more youthful appearance. 
Botox doesn't require recovery time and the results are instantaneous, but they will typically only last between 3 – 4 months before another treatment is required. 
Collagen stimulation  
Stimulating collagen production in the skin is another option to help with Nasolabial folds and there are a number of ways to do this. Laser treatments, ultrasound, and radio waves are a few popular examples, and a chemical form of vitamin C called 'retinoids' is sometimes applied to the skin to stimulate collagen production as well. 
Interestingly enough, PDO thread lift treatments also create a boost in collagen production that can last for quite a long time indeed – we'll tell you more about this later in the article so that you can see what we mean!
Recovery time will vary based on the type of treatment – Laser skin tightening, for instance, may take  weeks of recovery time between sessions, although results within the 1st month or 2 should be noticeable. With retinoids, the treatment can irritate the skin, so they are applied topically every other day or every few days, and you can start seeing results within 3 to 6 months.
Fillers 
Dermal fillers, as mentioned earlier, can be used to plump up and to volumize skin for a more youthful appearance. These fillers are injected and there are different types of them, with hyaluronic acid. PMMA, and polylactic acid being popular filler choices that you might hear about.
With dermal fillers, results are instantaneous, although 1 – 2 days of recovery time is required and the results may last anywhere from 6 to 12 months or even 2 – 5 years, depending on the types of fillers used.
Surgery
As far as surgical options, a cheek lift or even a full face lift can definitely have an impact on pronounced Nasolabial folds, although there are other approaches that the surgeon may suggest. Typically, the more direct approach would be subcision or excision.
With subcision, the surgeon employs a cannula (a thin, tubelike and blunt needle) in order to reduce the integrity of the existing tissue pockets, so that the area around the Nasolabial folds may be restructured. This reduces the 'pronounced' look of those 'laugh lines' and adds a more youthful appearance in the process.
Excision, by contrast, can achieve much stronger results, but it requires the use of a scalpel in order to remove the Nasolabial wrinkling so that the skin around it may be shaped and tightened. 
As far as the surgery and recovery time, for both procedures the surgery takes about an hour, with recovery time for subcision typically being 2-7 days before any bruising is healed, while with excision there may be a bit of swelling for a few days and you are recommended not to do any heavy lifting for about 3 weeks. 
Results from subcision last for many years, although the improvements will start slowly showing up within 3 months to one year. Results from excision will show fairly quickly (once swelling is reduced) and may last up to 25 months. 
PDO thread treatments
Probably the most popular option for Nasolabial Fold and Commissure treatment is a PDO thread lift where smooth PDO threads are placed in a supportive, gridlike fashion between the nose and the mouth. This produces immediate results but the threads themselves will also stimulate collagen production until they eventually dissolve (typically up to 18 months from the time of the procedure, although quality threads such as VSoft Lift may last as long as 24!). 
As such, the duration of your results as well as how long the collagen stimulation will occur will really depend on the threads that you choose for your procedure. 
Recovery time may vary, but it's usually 2 -4 days and you should avoid heavy lifting for about a week (on average, but your doctor will let you know for your specific case).   
The threads that you choose can make a world of difference
When you are getting your Nasolabial Fold and Commissure treatment done with VSoft PDO threads, then this will be done with up to 12 VSoft Lift Smooth and Twisted PDO Threads,  Size 29G x 40MM. If you check the link for the threads, you can even see a video of how the non-surgical procedure is performed and we highly recommend that you do. You can see that it's not invasive at all and the results may be seen immediately!
The advantages to using VSoft Lift PDO threads for your procedure are really quite significant. Here are just a few to give you an idea, but you can learn more through VSoft's injector brochure if we've piqued your interest:
Collagen production is maximized, as VSoft's proprietary polymer-coating allows for a slower dissolving process for their PDO threads. This creates peak-level collagen production and the threads may last as long as 24 months!
VSoft lift threads have 10-20 times greater tensile strength compared to other market threads. That means that less threads are needed for the procedure and a quicker recovery time for the patient. 
Effects are at the intradermal and subdermal layers, with collagen production being stimulated at the intradermal layer, while at the subdermal layer VSoft threads can stimulate natural lipolysis, so that fatty adipose tissue may be reduced.
These are just a few examples of the benefits of using quality VSoft PDO threads for your Nasolabial Fold and Oral Commissure procedure, so be sure to check the manual we linked at the beginning of this section if you would like to learn more. The right threads really do make a world of difference and VSoft threads are the go-to threads for procedures like these in clinics around the world!
Some final words on Nasolabial Fold and Oral Commissure treatments
In today's article we've talked about Nasolabial Fold and Oral Commissure treatments and while some folks will choose the surgery, with a non-surgical option like VSoft PDO threads you can get long-lasting results without having to go under the knife. What's not to like there?
With a non-surgical approach such as a thread lift, you could actually do your procedure in the space of a lunch break and enjoy long-lasting results – up to 18 months with standard PDO threads or as long as 24 months with VSoft Lift. 
If laugh lines are making an appearance too soon for your tastes, then be sure to take control with one of the options that we've listed today and if you go with the most popular thread lift option, then just make sure that you go with the best PDO threads on the market — Vsoft lift!
Until next time, thanks so much for visiting, and we wish you and yours the very best!
References/FYI
National Library of Medicine; "The Versatility of Nasolabial Flaps in Maxillofacial Surgery"
National Library of Medicine; "Minimal Nasolabial Incision Technique for Nasolabial Fold Modification in Patients With Facial Paralysis"
Cleveland Clinic;"Nasolabial Folds (Smile Lines)