Fox Eye Thread Lift Treatment
Fox Eye Lift Using V Soft Lift Lifting PDO Threads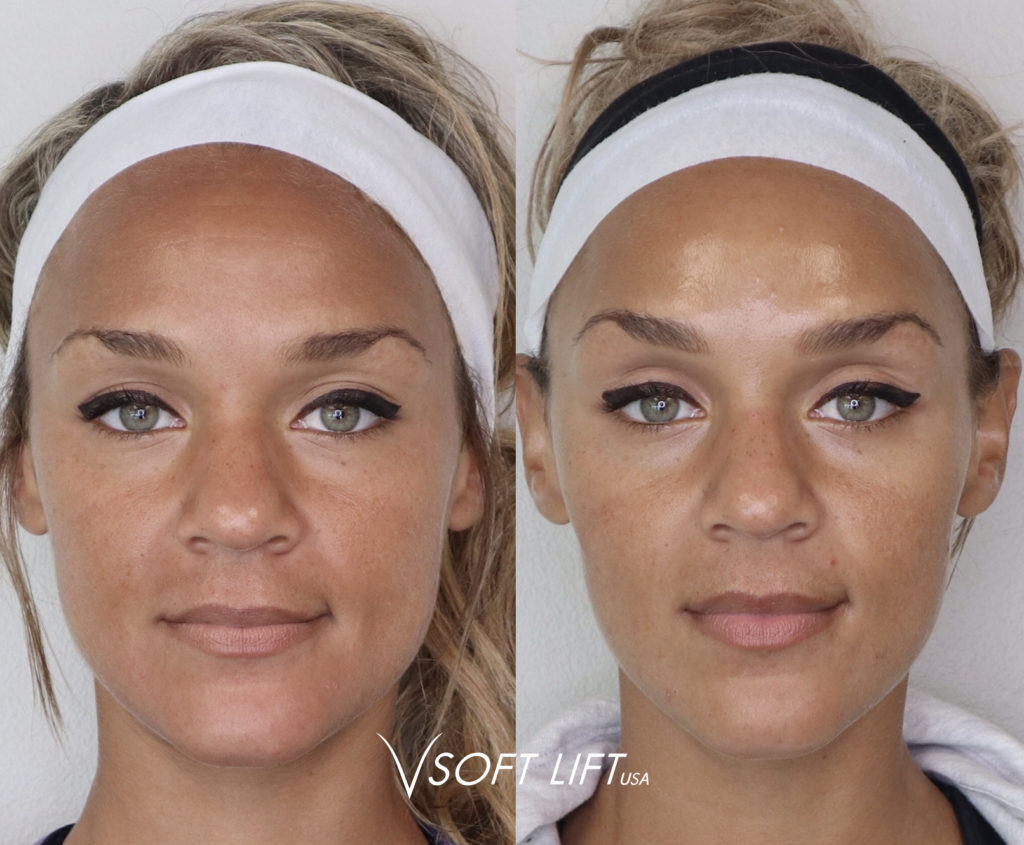 Your in office cost – $140
Patient Fee – $750 – $950 per treatment
Treatment time – 10 minutes
Number of Treatments – 1-2 about 4-6 weeks apart
Results lasting 12 – 24 months
Fox eye lift – the story behind it and the threads that make it happen
You may have heard about the famous 'Fox Eye lift' and wondered, 'what's that all about?". Well, today we're going to cut through the rumors and get to the core of this phenomenon.
 The Fox eye procedure actually comes in two flavors – the more invasive 'surgical' variety and the 'lift variety. To give you the information that you need to know, we'll start off by explaining and contrasting these procedures, touching briefly on their history, and then we'll focus on the actual lift itself so that you know what to expect and how long it will last.
We'll give you a hint – it's not just about the skill of your doctor, but also about the PDO threads that reinforce your physician's aesthetic expertise!
What is a Fox eye procedure and how long has it been around?
The Fox eye lift procedure was primarily developed as the result of the work of two double-eyelid surgical procedure specialists and the story starts in 1960's Hawaii. These doctors were Dr. Robert Flowers and Dr. Edmund Kwan, and Dr. Kwan had travelled to Hawaii to apprentice under Flowers and learn more about his Asian blepharoplasty techniques, which is simply the term for anti-aging surgery for the eyelids.
One of these techniques included the original precursor of the modern 'Fox eye' for rejuvenating the natural appearance of Asian eyelids and it required only sedation and an incision made between the brow and the lashline.
Dr. Flowers had developed his expertise because his practice, being in Hawaii, included a majority of Asian-heritage patients who were interested in maintaining the beauty of the natural creases in their eyelids.
Kwan took what he learned from Dr. Flowers, as well as his own experience with surgical procedures in facial reconstruction, to share the lift technique as well as his surgical options for achieving the 'Fox Eye look' and shared them with the world from his New York practice in the upper east side.
The rest, as they say, is history, but to this day many patients with Asian heritage or those who do not have this, but appreciate the delicate enhancement that a thinner eyelid crease provides now have the non-invasive Fox Eye treatment as an option to achieve this desired aesthetic.
What are the differences between a Fox eye lift and Fox eye surgery?
Fox eye surgery and a Fox eye lift are very different treatments indeed! Fox eye surgery is properly called 'canthoplasty' or simply referred to by terms like 'cat eye', 'almond eye', or 'fox eye' surgery. The intent behind the surgical procedure is to lift and then reposition the lateral canthus, which is just medical terminology for the corner of your eye.
This is done to rejuvenate or to simply shape a more 'almond eye' appearance or to correct drooping of the lower eyelids and it falls under the category of 'anti-aging for the eyelids' or as the physicians themselves refer to it, 'blepharoplasty'.
How is the Fox Eye surgery done?
The easiest way to describe the surgical procedure is that it basically involves removing excess fat and skin from the top eyelid, which can become hooded in the mature years of a patient's life. In very advanced cases, this drooping can even make it hard for the patient to see, but the end result is the correction of the eyelid droop and visual obstruction, along with a more youthful appearance in the look the eyelids and their positioning to the brow above.
Recovery from the surgical 'flavor' of a Fox Eye lift is around 2 weeks, and this can include bruising and general soreness, and the procedure itself takes up to 2 hours to perform. The results are permanent, but not everyone is keen on the idea of someone cutting into their eyelids, and this brings us to the Fox Eye lift.
Rather than a 2-hour procedure and half a month of recovery time, the Fox Eye lift can often be completed within 30 minutes – a little less than most of us spend for a lunch break!
How is a Fox Eye Lift treatment done?
Rather than scraping the insides of your eyelids, A Fox Lift treatment is a simple matter of inserting PDO threads into position between the brow and eyelids via a sharp needle, so that a cannula may be put in place to keep these areas open and the actual threads are then inserted.
For added safety, modern PDO threads such as Vsoft lift threads actually incorporate the cannula into the needle. Once these threads are positioned perfectly, then they are gently tightened until tissue and the skin vectors are lifted slowly into place.
It's incredibly non-invasion – only mild sedation is required and the whole process usually takes half an hour, and the biggest perk is that recovery consists of a little soreness or puffiness for a day or two. If mild bruising occurs during the procedure, then this might last for 3 -5 days, but it's very uncommon.
In Korea and the United States, they're often referred to as 'Lunchtime lifts', but don't let the casual nickname fool you – the results of this non-invasive alternative to surgery can last anywhere from 6 months to as long as 2 years!
It's easy to understand the popularity. After all, why go 'under the knife', when you can get the desired aesthetics from skilled physician in the time it takes to order a sandwich? While the results aren't permanent with a Fox Eye lift, the treatment may be repeated at a later time at your doctor's recommendation.
The key to how this procedure is even possible, as well as how long it will last, ultimately boils down to the quality of the PDO threads that are used. For those who are interested in learning more about this aspect, we can take a look at a leading provider of PDO threads called Vsoft Lift and their Vsoft Arte line.
These threads are specifically designed for the Fox Eye treatment and are optimized for different types of skin and tissue thickness, so read on and we can tell you all about them!
Vsoft Arte Lifting threads are perfect for this procedure
Vsoft Arte lifting threads raise the bar for eye lift treatments, providing a cannula that is incorporated into the needle for a safer procedure than the standard one that simply uses a sharp needle. The polydioxanone composition of the threads is also robust enough that surgeons have been using it for over 30 years!
Like other lift threads, they are designed to dissolve eventually, typically within the period of one year, but these threads also stimulate neocollagenesis – specifically, they enhance the body's natural healing process while maximizing production of collagen in areas where it has been used for treatment.
For a Fox eye treatment, anywhere from 3 to a dozen threads will be required, and depending on the patient's skin, various threads may be employed to customize the procedure to their needs. Vsoft Arte threads come in the following sizes to meet the demanding standards of this procedure:
Arte 1 – 19g x 100mm – The Arte 1 19g x 100mm threads employ a cannula with an FCL blunt shape design, and these threads are optimize for tissue which is heavier in all of the required vectors of the treatment.
Arte 2 – 18g x 100mm – Arte 2's 18g by 100mm lifting threads provide a heavier alternative to the Arte 1 for threading heavy tissue vectors to ensure the integrity of the finished treatment.
Arte 3 – 17g x 70mm – Arte 3's 18g x 70mm is specialized for heavy, sagging skin with a thicker dermis layer to negotiate, in order to simplify the achievement of a powerful, robust lift. An FCV style blunt cannula is built in to the threading needle for added safety and a perfect delivery.
Arte 3 – 17g x 100mm – The second version of the Arte 3 adds thickness and increased strength for heavy, sagging skin and thicker dermis layers. Like the lighter Arte 3, control and safety are enhanced by means of an FCV cannula pre-loaded as part of the design.
For clinics or patients who are interested in learning more about Vsoft lifting threads
When it comes to treatments you want to know that you are getting the best and Vsoft's FDA-approved threads are made by the largest provider in the world! If you are looking to learn more, Vsoft provides a number of resources, such as this Injector's brochure that can tell you all about their lifting threads and why they are considered top of the line.
As a leader in the industry, Vsoft also offers training resources but if you are already familiar with this product and simply want to see the range of procedures that Vsoft threads are optimized for, then you can simply click here for a comprehensive list.
Aside from stimulating neocollagenesis, Vsoft threads may also be combined with filler and neurotoxin techniques to produce as much as a 40% improvement with a treatment's finished aesthetics and with longer-lasting results.
Don't take our word for it – be sure to check out the resources that we've provided so that you can see the hard numbers for yourself. Remember – the best technique is only as strong as the materials that you use — so when it comes to lifting procedures such as the Fox eye treatment then the Vsoft line is VITAL for preserving a carefully cultivated aesthetic!
References/FYI
NextShark; "Plastic Surgeon Proves 'Fox Eye' Trend Was Sparked By Asian Features on TikTok"